OFSEP HD cohort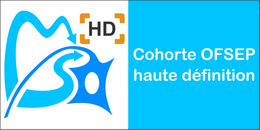 OFSEP innovates with a new enhanced cohort. Some of the OFSEP registry patients will be followed-up on a yearly basis. Additional clinical, quality of life and other patient-reported data will be collected.
This study aims at developing personalized predictive tools to improve patient care management, and help in making decision to start, maintain or adapt medical care.
Fact sheet
| | |
| --- | --- |
| Name: | OFSEP HD Cohort |
| Title: | Observatoire français de la sclérose en plaques (OFSEP) : cohorte haute définition (HD) |
| Sponsor: | EDMUS Foundation against multiple sclerosis (for OFSEP) |
| Scientific coordinators: | Prof. Sandra Vukusic, Prof. Francis Guillemin |
| Funding: | French national research agency (ANR) and OFSEP |
| Expected inclusions: | 5,000 patients |
| Status: | Ongoing |
| Start date: | 01/07/2018 |
| End date: | 01/07/2020 (planned date) |
| Contact: | This email address is being protected from spambots. You need JavaScript enabled to view it. |
Project description
Objective
This high-definition cohort focuses on a sub-group of well-defined MS patients of OFSEP network selected sites. Its objective is to determine prognostic factors of MS disability evolution in real life regarding disease characteristics and care practices which may potentially affect the disease evolution, from MS onset and along four key specific post-onset landmarks:
MS diagnosis
Progression diagnosis (either primary or secondary)
A recent disease activity, defined by the occurrence of a relapse and/or MRI activity during the last 3 months
The absence of disease activity during the last 5 years, i.e. a "remission state".
Such prognostic tools, including health-related Quality of Life (QoL) information, will allow the physician and the patient to make a more accurate therapeutic decision, based on a patient-centered decision making.
Beside this clinical objective, relevant methodological challenges will be addressed and economic analyses will be conducted.
Participating sites
All the French MS reference clinical centers (CRC SEP), nominated by the regional health authorities as defined in the French national neurodegenerative diseases program will participate.
Study population
Inclusion criteria:
Diagnosis of multiple sclerosis according to the most recent criteria
Age 15 or older
Follow-up in a MS Reference Clinical Centre (CRC SEP)
Not permanently wheelchair user (EDSS ≤7)
People included in OFSEP HD cohort must also be included in the OFSEP registry.
Study duration and number of subjects
Inclusions started in July 2018. 5000 inclusions are expected. The planned study duration is 2 years.
As OFSEP HD cohort is a long-term study, an extension of the inclusion and follow-up period is possible, depending on additional funding.
Visit schedule
Patient visits are planned according to the study schedule, including an inclusion visit and annual follow-up visits, called "HD visits". This rhythm is consistent with the usual patients management and allows additional visits if necessary.
The following data will be collected during HD visits:
OFSEP minimal data (socio-demographics data, neurological episodes, EDSS and irreversible disability, MRI, disease modifying treatment, serious adverse events)
Associated clinical data:

MSFC (disability and cognitive troubles), including the 9-hole PEG test, the timed 25-foot walk and a cognitive test on information processing speed, the CSCT.
Comorbidities, height, weight, Vitamin D if available, Anti-JCV status and index if available

Brain MRI, according to the OFSEP acquisition protocol
Self-report-questionnaires including quality of life (EQ5D, SF12, MusiQoL) and some exposure factors (from the Constances cohort).
At inclusion, a blood sample will be collected and banked. A neurofilament dosage will also be performed.